Perth, Australia, is known for some of the most dramatic and beautiful sunsets in all of Australia. Its coastal location and scenic surroundings create gorgeous vistas that are perfect for portraiture and nature photography. The vibrant golds, rich scarlets, and deep purples of Perth's sunsets, coupled with the many magnificent views of the sea and skyline make the city an enchanting sight every evening.
While you can find lots of good Perth sunset spots all over the city, today we're sharing our top five with you. From beaches to botanical gardens, these are the best sunset spots Perth has to offer.
When is the Best Time to Watch a Sunset in Perth?
Perth's sunset hours usually fall between 5:00 and 7:00 PM, but the precise sunset times vary with the season. The sunset times are influenced by the changing seasons, with longer daylight hours in summer and shorter daylight hours in winter. Below are approximate sunset times in Perth by season:
Summer
December: Sunset occurs around 7:30 PM to 8:00 PM.
January: Sunset takes place between 7:45 PM and 8:15 PM.
February: Sunset times range from 7:30 PM to 7:45 PM.
Autumn
March: Sunset occurs around 7:00 PM to 7:30 PM.
April: Sunset takes place between 6:15 PM and 7:00 PM.
May: Sunset times range from 5:45 PM to 6:15 PM.
Winter
June: Sunset occurs around 5:15 PM to 5:45 PM.
July: Sunset takes place between 5:15 PM and 5:30 PM.
August: Sunset times range from 5:30 PM to 5:45 PM.
Spring
September: Sunset occurs around 5:45 PM to 6:15 PM.
October: Sunset takes place between 6:15 PM and 7:00 PM.
November: Sunset times range from 7:00 PM to 7:30 PM.
Please note that these times are approximate and can vary slightly depending on your exact location within the Perth metropolitan area and the specific day of the month. Precise sunset times can be found daily online, so you can decide exactly when you want to go find your sunset spots. Perth is the largest city in Western Australia, which means that traffic can be thick during rush hour– plan accordingly, lest you miss your planned sunset watching!
So now that you know when to watch the sunset, where should you watch it? As one of the top rental car companies in Perth, we know this city like the back of our hand. Here's our list of the top sunset spots for that perfect evening outing.
1. Rottnest Island
Rottnest Island, or Rotto, is the perfect place for an afternoon outing that turns into a sunset viewing. Head over in the early afternoon for some beach time at the Basin or Pinky Beach, where you can even catch some waves if you're into surfing. Then, grab a table at one of the many excellent waterfront restaurants and watch the sun sink into the ocean. Catch the ferry back and keep the cheer going with an evening on the town.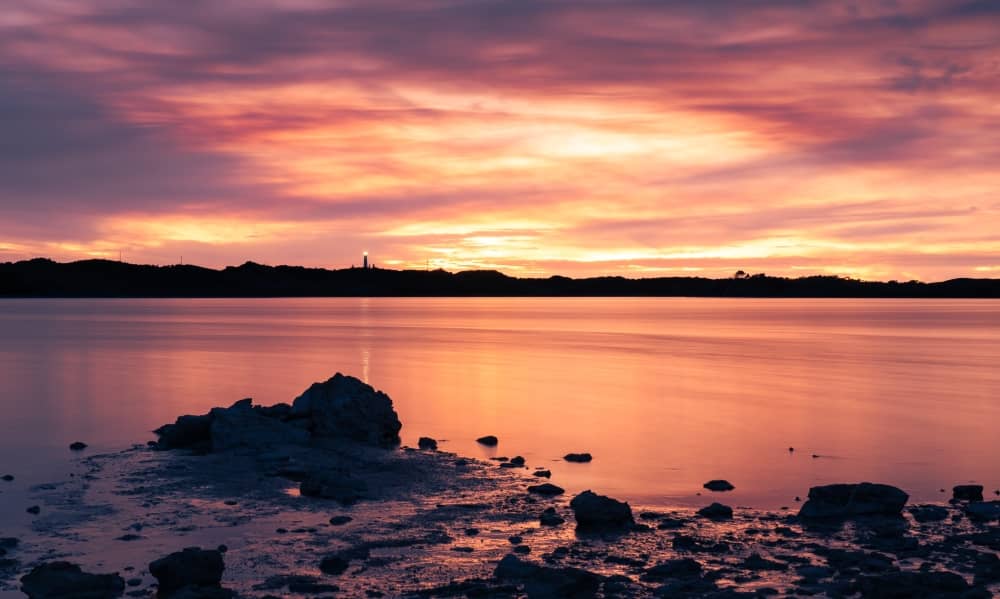 2. Kings Park and Botanic Garden
Kings Park and Botanic Garden is an exceptional spot to savour a stunning sunset. Perched on a hill overlooking the city and the tranquil Swan River, you'll have an unbeatable vantage point for sunset enthusiasts. As the sun dips below the horizon, the sky ignites with vibrant shades of orange and pink, casting a warm glow over the lush gardens and cityscape below. The serenity of this urban oasis, combined with the breathtaking views, creates a magical atmosphere. Visitors can gather at various viewpoints, such as the War Memorial, to enjoy this daily spectacle. Kings Park is a beloved destination for those seeking a memorable sunset experience in Perth.
3. Cottesloe Beach
Cottesloe Beach offers an enchanting setting to witness breathtaking sunsets. As the sun seems to descend into the Indian Ocean, Cottesloe Beach transforms into a haven of natural beauty. The wide, sandy shores provide a perfect front-row seat for the evening spectacle. Vibrant hues of orange, pink, and gold adorn the horizon, reflecting off the tranquil waters and casting a warm, romantic ambience. The gentle lapping of waves against the shore enhances the serene atmosphere. Cottesloe Beach is a beloved destination for locals and tourists alike, making it an idyllic spot to cherish the daily wonder of a coastal sunset.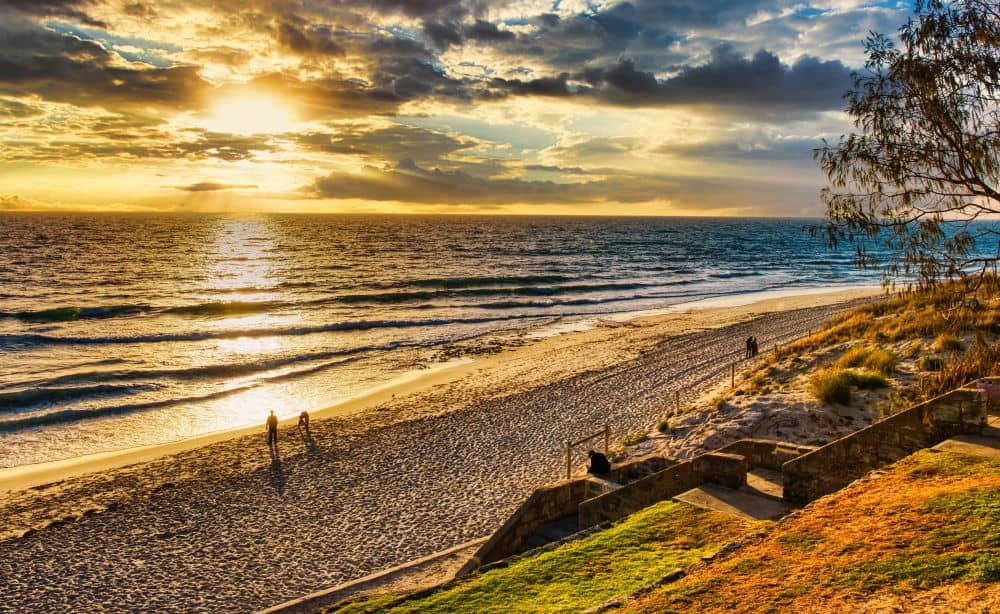 4. Fremantle
Step just outside of the city and you'll find Fremantle. This historic port city offers a unique and charming locale to enjoy a captivating sunset. As the sun dips below the horizon, Fremantle's maritime heritage and scenic waterfront come alive with a warm, golden glow. The harbour, lined with fishing boats and historic architecture, creates an idyllic setting for sunset watching. The juxtaposition of old-world charm and coastal beauty is truly captivating. Visitors can stroll along Bathers Beach or enjoy a meal at one of the many waterfront eateries while savouring the picturesque views. Fremantle's maritime atmosphere and stunning sunsets make it a memorable destination for twilight enthusiasts.
5. The Zig Zag Scenic Drive
The Zig Zag Scenic Drive offers a unique and elevated perspective to witness a captivating sunset. This historic winding road, nestled in the Darling Ranges of the Perth Hills, provides breathtaking panoramic views of the cityscape and the surrounding natural beauty. As the sun descends, the sky transforms into a vibrant canvas of oranges, purples, and pinks, casting a warm glow over the landscape. The Zig Zag's serene and secluded atmosphere, coupled with its stunning vistas, creates an intimate and memorable sunset experience.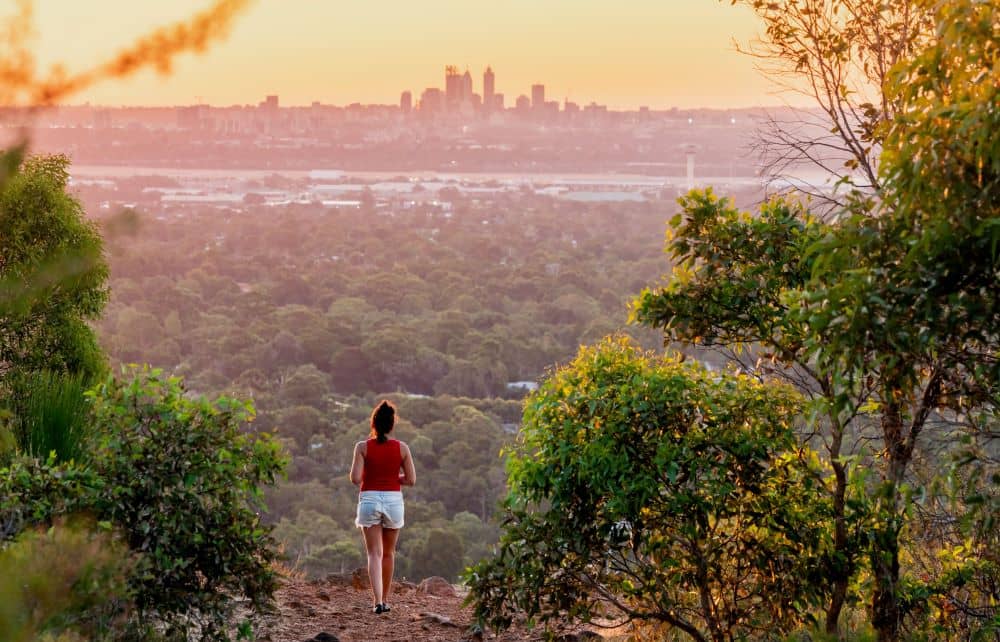 Conclusion
No matter where you want to go to see the sunset in Perth, a car from Aries Rental can get you there. Perth is a beautiful destination, with plenty to do and to see. Car rental can make your travels around Perth much easier, and we have a vehicle to suit every need. Whether you want a compact hatchback or a minibus that seats 12, we have the rental car for you. Contact us today to get started with renting!