Australia's road rules differ to many other countries. If this is your first time travelling to Australia and you intend on driving, here are some tips to help you become familiar with our road rules.
It is important you know the rules before you hire a vehicle.
Australian Road Rules Quick Tips 
Australians drive on the left hand side of the road
Speed limits are expressed in kilometres rather than miles
Seat belts are compulsory
Young children must use booster seats to securely strap them into place
Driving under the influence of drugs, alcohol and some strong medications is illegal
There are limitations to using a mobile phone while driving, even as a GPS
Left, Left, Left, Right? Stay Left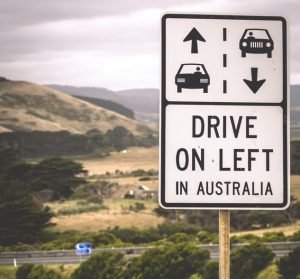 The most important thing to remember is to stay on the left side of the road. The easiest way to remember to stay on the correct side of the road is to make sure that, as the driver, you're closest to the middle of the road and that oncoming traffic passes by you, not the passengers.
With long, isolated roads between major cities, it can be easy fall into the habits of how you drive back home.
All Australian cars, and your small rental car, SUV or minibus, will have you seated in the opposite position to what you may be used to. By using the above tips, you'll avoid one of the biggest causes of accidents on Australian roads caused by international drivers.
Seat Belt Rules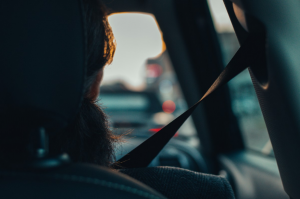 The driver and all passengers must wear a seatbelt. That's the law in Australia. The driver will be fined if anyone is caught not wearing a seatbelt.
Driving long distances on open roads
Australia is a large country. Travellers often cover much ground when driving between cities. These long stretches of road can be very monotonous.
That's why it's important to take lots of breaks. Swap drivers every two hours and take frequent pit stops to stretch your legs and freshen up before driving again.
If you're travelling beyond Perth, it is recommended you hire vehicles with extra fuel capacity, like our SUV rentals, and take extra fuel with you whenever you have a chance.
It is always good to be prepared when travelling long distances, especially in the case of a breakdown.
Speed limits & speeding fines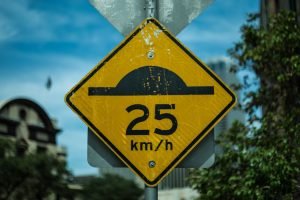 Speed limits are measured in kilometres per hour (km/h). In general, the speed limit will not exceed 130 km/hr. On highways, it is around 100-130km/h. In built up or residential areas, the speed limit is generally 50km/h.
Speeding is a major problem on Australian roads and is one of the leading causes of fatal crashes. It also comes with heavy penalties and fines if caught by a police officer or a camera.
During peak season, it is not uncommon for fines to be doubled as an incentive to stay mindful of the speed you're driving.
All in all, these tips skim the surface of the driving laws here though will be a good start for international travellers.
Make sure you're familiar with these rules before hiring a car. As always, the team at Aries Car Rental are more than happy to help you find the perfect rental car for your journey. If you're driving long distances beyond Perth, contact us and make sure to ask about vehicles with extra fuel storage.