There are so many places to see and things to do in and around Perth, including national parks. These national treasures are not only breathtaking but also a welcome escape from the hustle and bustle of the busy city. Are you ready to get acquainted with the unique flora and fauna in WA? Pack your bags, book your car rental, and start immersing yourself in the natural beauty of Perth's national parks. Here are the top eight that you should certainly visit:
John Forrest National Park
If you're looking for a trip down memory lane, why not head to West Australia's oldest national park? John Forrest National Park was established in 1990 and named after the state's first premier. Today, it remains one of the favourite destinations in Perth. The park is 24km east of Perth, set amongst native Marri and Jarrah trees, giving a lot of shade for a comfortable walk or afternoon picnic.
While you're here, try a beer or two at the Tavern, then stroll to the back to find some chill kangaroos. You'll be surprised that 'roos and beers go well together. And during feeding time, you will discover elusive and timid bandicoots.
There's no shortage of natural attractions onsite. You can climb boulders and explore creeks. Plus, it's where some of Perth's best trails are, and they all conveniently start from the main picnic area. The national park also has two waterfalls that offer a pretty sight as water cascades over granite rocks.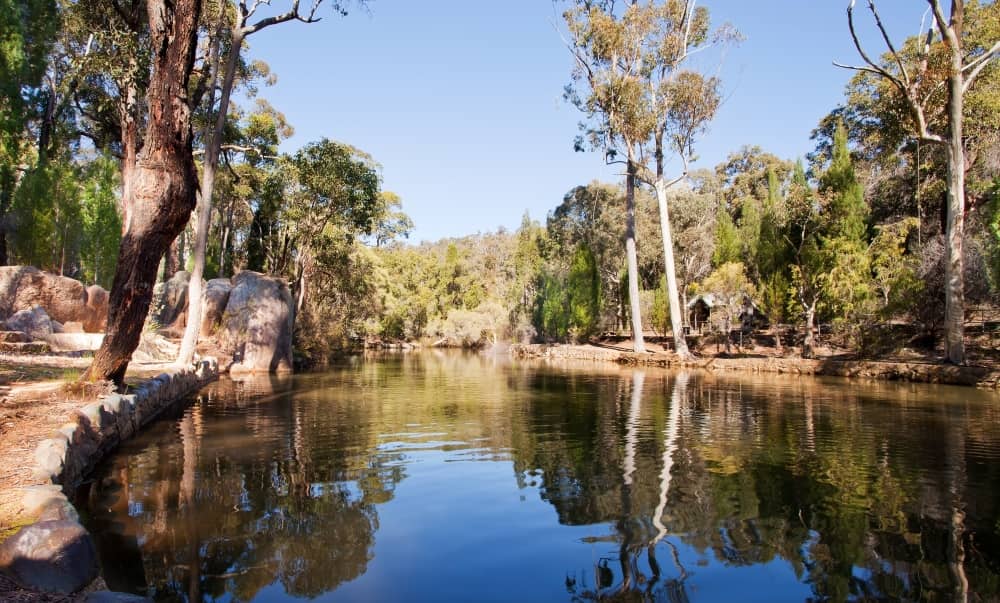 Walyunga National Park
Sitting on the Darling Range, Walyunga National Park is quite well-known for the wildflowers that thrive in the area. You would not want to miss them when visiting in winter or spring. But that's not all; native animals and beautiful valley scenery also await.
Walyunga National Park is about 40km NE of Perth. If you're driving from the city, it can take approximately an hour to reach your destination. Plenty of parking is offered at the main picnic sites. While here, you can also use gas barbecues for free.
This national park is humongous, reaching almost 1,800 hectares and contains one of the biggest known Aboriginal campsites within the Perth area. There are lots to do here, including canoeing, picnicking, and camping. However, you need to schedule before arriving if you're looking to camp onsite. Walk and cycle trails are also accessible, including the Aboriginal Heritage Trail, an easy 45-minute return walk.
Kalamunda National Park
Here's an easy day trip for you. Kalamunda National Park is a relaxed destination with fewer visitors than other large Darling Scarp parks. This 375-hectare national park is most known for its diverse native plants. Just 25km east of Perth, it's easily accessible from the Perth CBD. This location is open every day and offers plenty of activities, including horse riding and bushwalking.
Kalamunda National Park has world-class woodlands, including Piesse Brook, which runs through the park. It's a must experience, especially if you're interested in plant species that only exist in the area.
Access the park at Spring Road or through Schipp Road, where you can find a parking spot. From there, you can start tackling some walking trails. The striking scenery is bolstered by chance encounters with kangaroos, bandicoots, or echidnas. Native birdlife is abundant, so this is undoubtedly a great national park for birdwatching.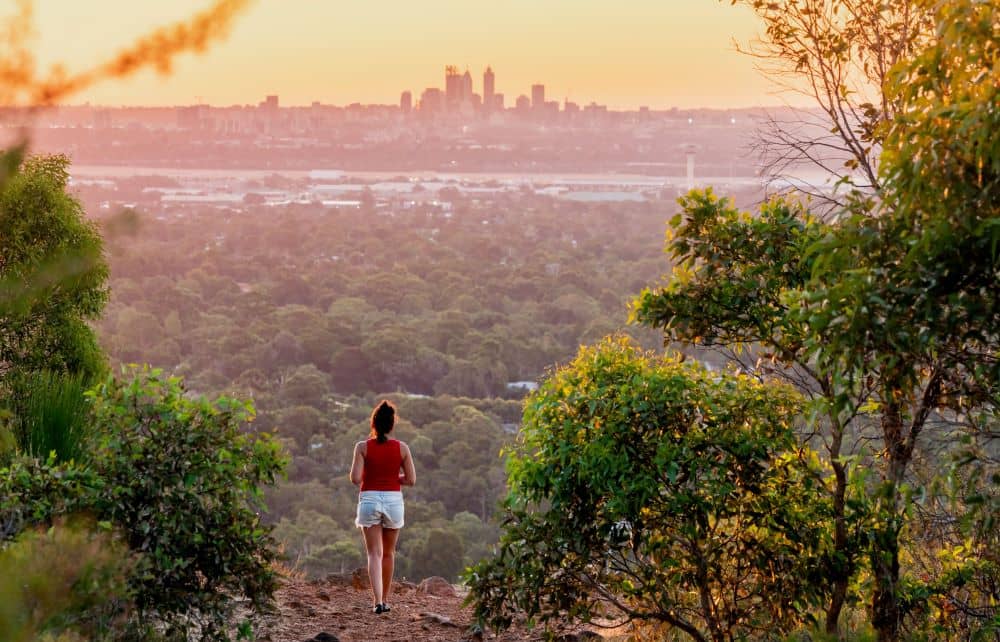 Korung National Park
Korung National Park is in the towns of Karragullen and Pickering Brook. Because of the location, this park was once called Pickering Brook National Park (unofficially). The vast Korung National Park is 6,000 hectares in size, with great mountain bike riding and bushwalking opportunities. We recommend visiting in spring to witness wildflowers in their full bloom. Nevertheless, the park is open every day and is 26km SE of Perth or a quick 45-minute drive from the CBD.
Walk trails are available for everyone, no matter their fitness abilities. One popular trail is the Carmel Walk Trail, which starts at Anembo Road and Morton Road. The trail can be completed with a continuous walking loop or break it down into two sections. Either way, you will pass through orchards and open farmland.
An easier trail is the Channel Ten Tower Walk, which is about 200m off Pomeroy Road. Take this route and get through a hill via the Casuarina, Jarrah, and Banksia groves.
Yanchep National Park
Here's one of the most famous national parks in WA. Yanchep National Park is deemed Perth's cultural and natural meeting place – and rightfully so. It has plenty of historic buildings on the shores of a lake, picnic spots, and caves. You can spend your afternoon just lounging on one of the picnic spots. You can bring your barbecue or use the free grill onsite as you take in the majestic lake.
Take a stroll along the 240m boardwalk, where you will spot several native animals, with koalas as the main attraction. It's truly captivating to see them in a natural environment. Yanchep National Park is also where western grey kangaroos are, especially early and late in the day.
Meanwhile, if you're in the mood for exploring caves, there are over 400 in the park, including Crystal Cave, Cabaret Cave, and Yonderup Cave.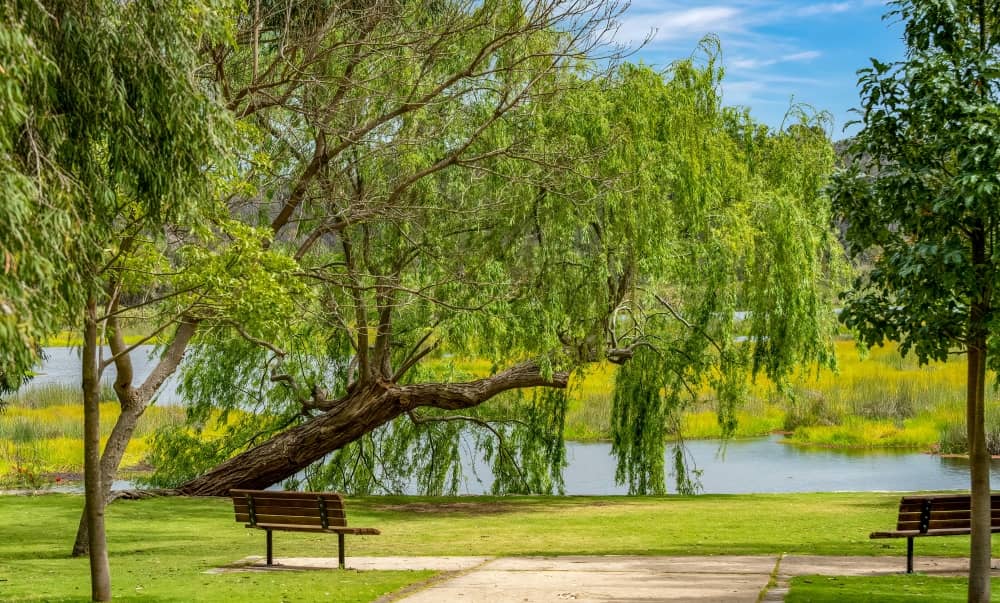 Beelu National Park
Beelu National Park offers birdwatching opportunities, along with recreational sites. The panoramic views of Lake CY O'Connor and Mundaring Weir are enough reasons to visit this location. The national park has several trails and tracks, such as the BIbbulmun Track and Munda Biddi, which is a mountain bike trail.
Just 40km east of Perth, Beelu National Park is where you can go mountain biking, bushwalking, and abseiling, where you descend a rock face with a doubled rope looped around your body. Don't forget to explore the park to witness some of the scenic points in the area, including South Ledge. This is where you can have a picnic whilst enjoying breathtaking views.
Fred Jacoby Park is within the national park and is where one of the largest English oak trees in the state can be found. You can also camp at the Perth Hills Discovery Centre with facilities that make your stay more comfortable.
Serpentine National Park
If you're looking forward to seeing magnificent waterfalls, you're in for a treat here at Serpentine National Park. Its famous waterfall cascades over a granite rock face. And because it's close to Perth (only 55km SE of Perth), expect that there will be numerous visitors with you when you're in the park. It is open daily from 8:30 AM and can quickly fill. That's why you should always arrive on time or at least before 10 AM.
Serpentine National Park is a sanctuary for various plants and animals, including kangaroos. You can relish the beauty of the surroundings whilst in a shaded grassy area where you can have a picnic. If you did not bring any food, don't worry; there's a mobile food and drink store right at the car park. Note that only cash is accepted.
The national park is rich in history, especially since it was once where Bindjareb tribes used to camp and hunt. The best time to see Serpentine National Park in all its glory is from July to November when wildflowers are blazing in a multitude of colours.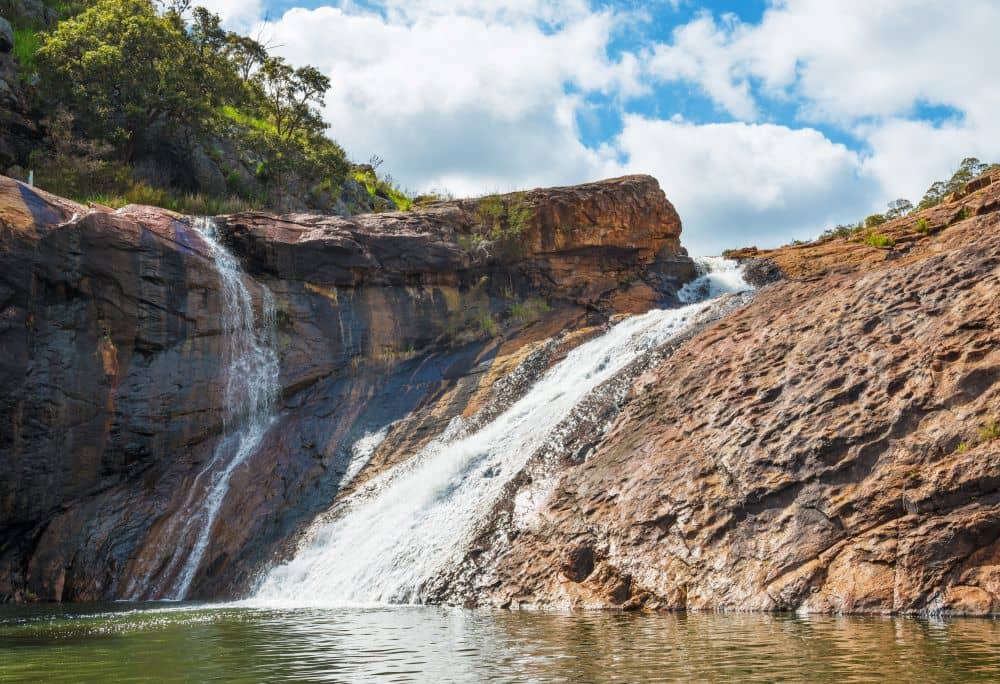 Midgegooroo National Park
This national park was once called Canning National Park. Today, it's Midgegooroo National Park, named after a Nyoongar elder during the 1800s. He played a crucial role in resisting domination by other settlers in the Perth area.
You can access the picnic site immediately by heading to McNess Drive or Canning Dam Road, off Albany Highway. Midgegooroo National Park is about 47km from Perth along Brookton Highway.
If you want to stretch your legs after a long drive, Midgegooroo will not disappoint. There are plenty of walking and cycling trails, including the Munda-Biddi mountain bike trail that starts from Albany through the national park itself. The Carinyah mountain bike loop trail is north of the location, which is almost 16km long.
Start Your Adventure
That's our list of the Perth national parks you should explore.
Before your trip, check your destination's website for information about entry fees, camping regulations, and eating options. If you're thinking about taking your pets or kids, make sure that you know the rules first. Don't forget to hire a car from Aries Car Rental to travel at your leisure and reach the national parks quickly and hassle-free.