Perth is one of the largest cities in Australia and the capital of Western Australia. We've combed through all the best spots when it comes to Perth hiking and walks. So, hopefully, you'll be able to find somewhere exciting you've never been. Check out our list of the top Perth walking trails:
1. Eagle View Walk Trail
This 15 km trail offers the best of John Forrest National Park. You'll get a chance to see a wide variety of vistas. Strolling alongside natural waterfalls feels amazing, regardless of the time of year you go, however, the weather is best from autumn to spring.
Take plenty of pictures once you've stumbled across the wildflowers near Wandoo forest. The weather feels the best from fall to spring. It's a moderately difficult hike, so nearly anyone should be able to enjoy it. There are even kangaroos in the wild out here.
2. Kitty's Gorge
Kitty's Gorge is another one of the best Perth hiking trails in the state. It travels along two natural rivers, the Gooralong Brook and Serpentine River form the main attractions along this hike. Listen to their waters as you enjoy the wonderful scenery in Jarrahdale.
By the end of the trail, you'll get to enjoy something truly marvellous. Serpentine Falls attracts visitors from all over the world every year. Check it out yourself to see why it's such a popular spot. This 14km return hike is super popular during the summer, thanks to natural swimming holes.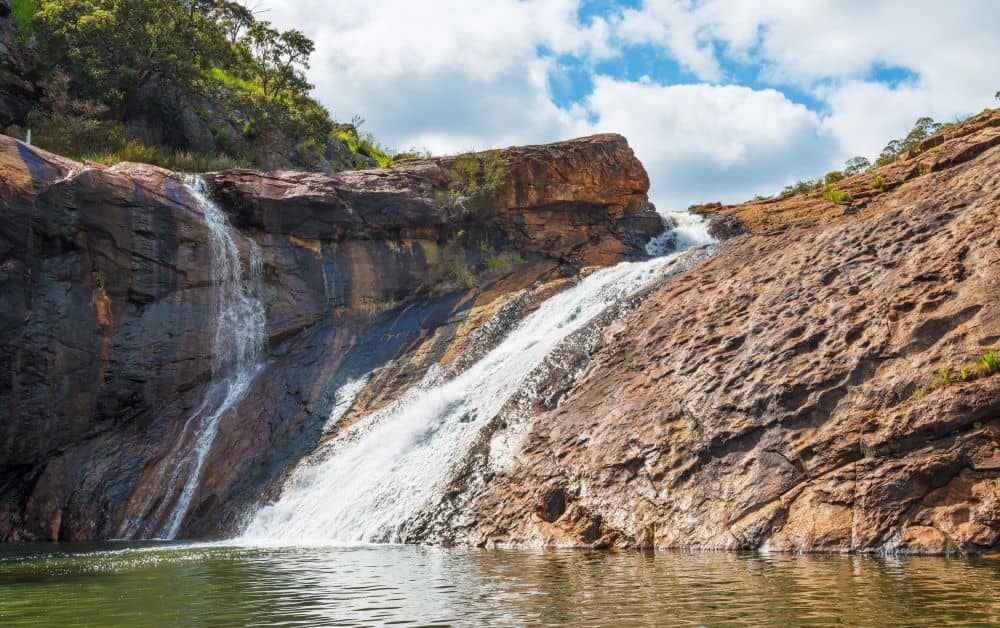 3. Whistlepipe Gully
If you've got a dog, then a hike at Whistlepipe Gully might be ideal for you. It's one of the most popular dog-friendly Perth hiking trails around. Located at the base of Perth Hills in Forrestfield, it snakes along whirling rapids the whole way.
It's an easier trail to hike, and it's only 3.6 km. You'll be treated to some gorgeous scenery and plenty of wildflowers on your hike, too. Make sure you've brought your dog cause they'll love frolicking in the streams.
4. Bells Rapids
Bells Rapids has been a popular spot for tourists and locals alike. It's another one of the dog-friendly Perth walking trails, too. About a 45-minute from Perth in the Avon Valley, the best time to visit is winter and spring, this is when the rapids are in full flow.
You have the choice of two walks, the 3km Goat walk or the 2.5km River walk. Swimming is a no here, the strong undercurrents when the river is full are far too much to take a risk.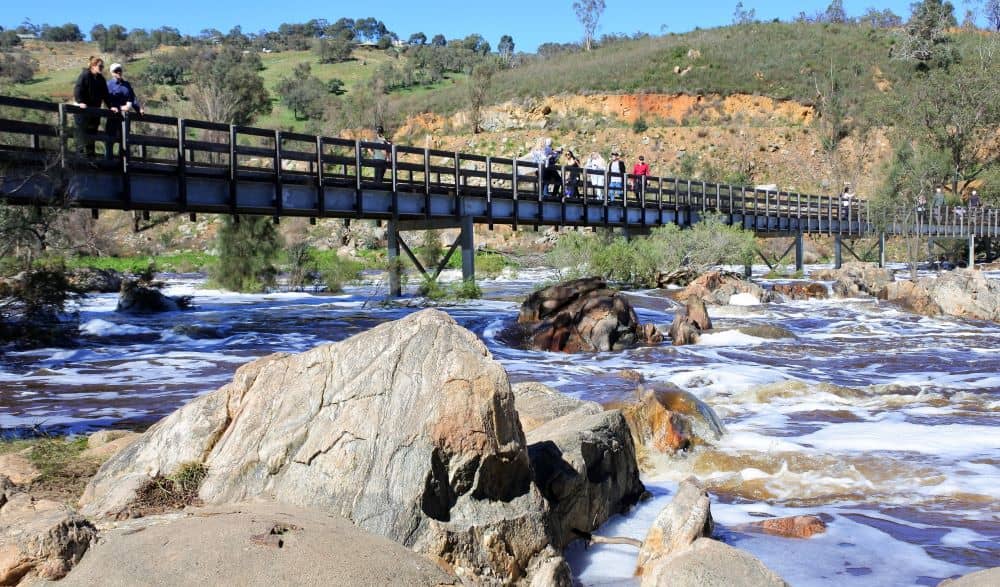 5. Lesmurdie Falls
You've got multiple points of access to the stunning Lesmurdie waterfalls. Start at the bottom or top, each with a car park in case you just wanted a nice easy view of the falls., depending on which direction you'd like to travel.
There are multiple shorter trails here, ranging from 300m return to 3km. So, if you're looking for something you can complete quickly, check it out. The waterfalls are a great place to capture scenic photography. Don't forget to bring your camera!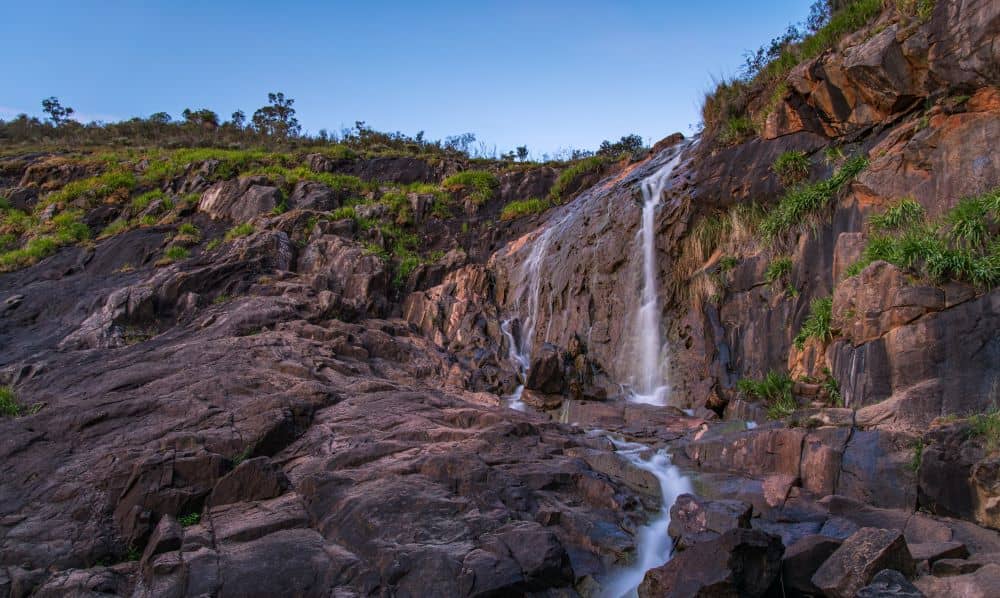 6. Ellis Brook Reserve
Intrepid explorers can find a hidden valley near the base of Perth Hills. Inside of that valley, you'll discover one of the region's most amazing hiking spots.
Ellis Brook Reserve has several different trails. But, we've always been a fan of combining them into one long expedition. Our favourite spot is Sixty Foot Falls, this grade 4 2.1km loop is a small challenge but offers great views. It's a dog-friendly park, too. So, don't leave your furry friend at home.
7. Ghost House Walk Trail
Yanchep National Park is one of the area's top travel destinations. We've always felt like Ghost House Walk Trail is the best part of the park, too.
There are some old ruins hidden along the trail the "Ghost House" itself, being reclaimed by nature. Take plenty of pictures on your way because you'll want to show your friends. It's a 12.5km loop trail overall. So, give yourself enough time, around 3-5 hours depending on your fitness level.
8. Sullivan Rock to Mount Cooke
This trail is one of the more challenging on our list and it's found about an hour outside of Perth, in Darling Range. This track isn't for the faint-hearted, allow up to 8 hours of continuous hiking. this forms part of the Bibbulman Track, just a short section of it at 18.4km return on this grade 4 trail.
At the end of the hike, you've got to summit Mount Cooke itself which is 582m above sea level.
9. Echidna Trail
Traverse the banks of Swan River and Avon River on the same trip. You'll get to see the famous Avon's Descent while you're on the grade 3 trail, too.
By the end of the trip, you'll be staring at the Swan Coastal Plains. Nothing feels more rewarding than completing the whole 11 km loop. It's an amazing hike, especially during the summer. Dip your feet into the water if you're ever feeling too hot.
The star attraction on this trail is the massive natural swimming hole and there's no better way to enjoy Kalamunda National Park. Be careful.
Some of the sections get pretty steep rated at a grade 5 this trail should take around 2 hours to complete the 5km. This is for experienced hikers and those more steady on their feet. Take a picnic with you so you can enjoy the tranquillity of this stunning place.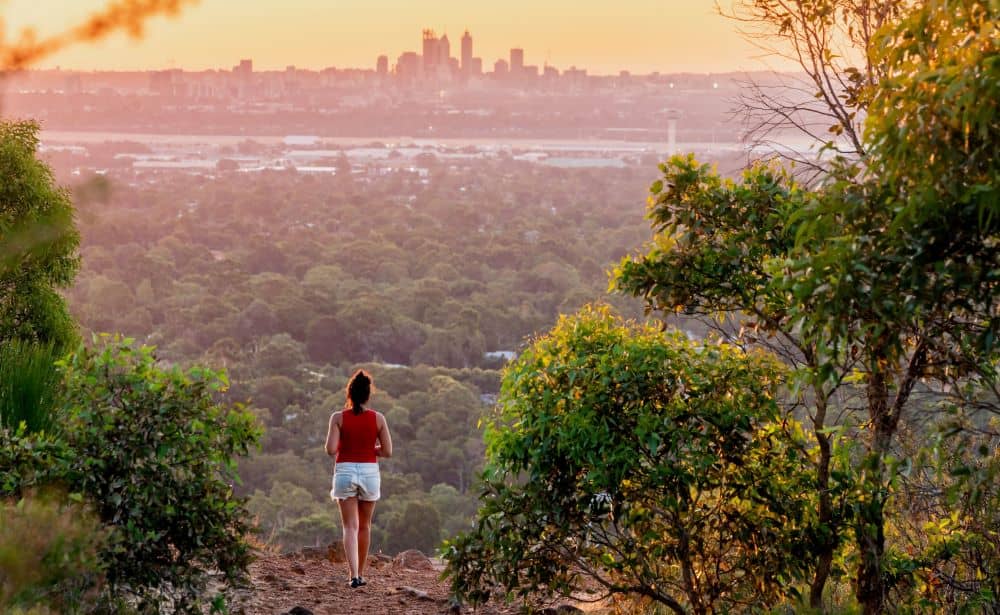 The Best of Perth Hiking
There's a ton of stuff to see, in and around the city. Hopefully, you've found somewhere exciting for your next trip. If you need a car for your travelling, we have a range of vehicles ready for hire to make sure your next hiking adventure around Perth is a safe one.