Perth is a distinguishable and attractive city that is best appreciated with an open mind. Located in the western region of Australia, Perth is encircled by breathtaking coasts, immaculate beaches, and undeveloped wilderness. When visiting Perth, there is something for everyone, including top-notch wineries, restaurants and bars, outdoor pursuits, and wildlife encounters.
In this blog post, we have come up with a guide that will help you get the most out of your time in Perth. Whether you want to see the city's thriving culture or its stunning natural beauty. This itinerary, which includes our top suggestions for attractions and activities, will make sure you don't miss any of Perth's most desirable locations whether you're looking for a day trip, or staying for 3 to 7 days in Perth.
Perth One Week Itinerary
Day 1 – Kings Park and Botanic Garden
Day 2 – Rottnest Island
Day 3 – Margaret River
Day 4 – Swan Valley
Day 5 – Pinnacle Dessert and Sand Boarding
Day 6  – Caversham Wildlife Park
Day 7 – Fremantle
Day 1 – Kings Park and Botanic Garden
Familiarise yourself with Perth City by visiting Kings Park and Botanic Garden an iconic landmark. For some stunning views and fresh air, Kings Park and Botanic Garden is one of Western Australia's best parks. It is also one of the largest and most beautiful inner-city parks in the world. The Park spans an area of 400 hectares facing the Swan River and the Perth city skyline. The breathtaking Western Australian Botanic Garden is located in Kings Park which has over 3,000 species of flora from all around Western Australia. You can enjoy the views of the Swan and Canning Rivers, the Perth city skyline, and the Darling Ranges located on the east.
Just 4 minutes from Kings Park is another iconic site -The Blue Boat House. It is a famous photography location. For the best shots visit the boat house one hour before sunrise and one hour after sunset.
After breathtaking photos, take a 2-minute walk to Mounts Bay Rd Before Wingfield Avenue and hop into 950 bus Morley Bus Station and head to Elizabeth Quay. At Elizabeth Quay, you can take lunch at one of its many waterfront restaurants and later end your day with a stroll along the beach. Perth has beautiful beaches to offer. Although farther, we recommend Scarborough Beach since it has beautiful white sand with crisp clear water and gorgeous sunsets that will make you want to stay here forever!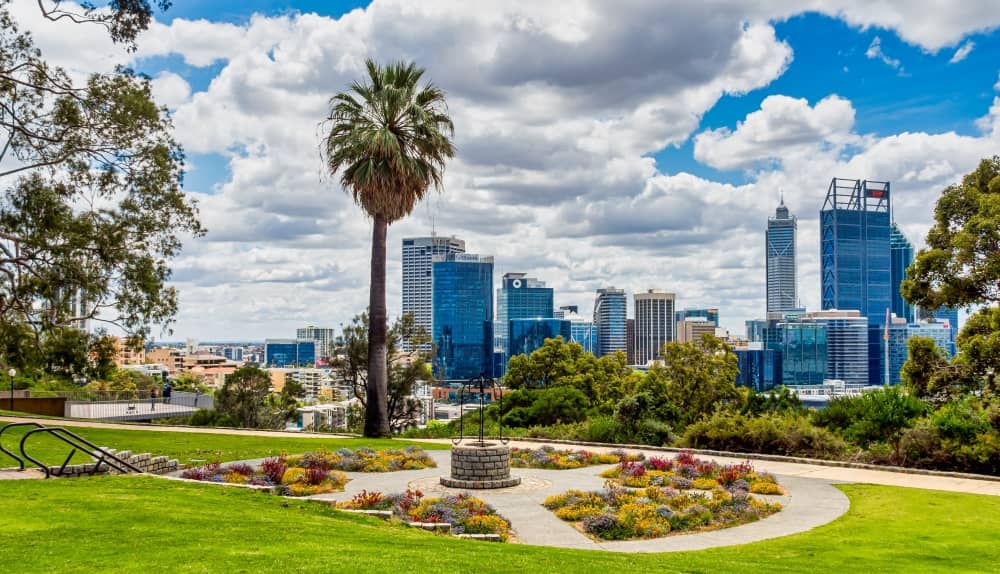 Day 2 – Rottnest Island
After breakfast, head out to Elizabeth Quay, Hillary's or Fremantle Harbor and book your ferry to Rottnest Island for a day exploring what this unique island has to offer. While on the Island, you can explore on foot or rent a bicycle. This small island off the coast of Fremantle is home to some of Australia's most amazing animals like quokkas and sea lions.
You will also encounter snorkelling around the shipwrecks at Parker Point, famous surf spots like Strickland Bay, fantastic cycling paths, and activities like stand-up paddle boarding and kayaking. Don't forget to take a photo with the quokkas, they are sure to bring out your inner adventurer!
After some time spent at the beach, make your way back to Perth City for dinner. Be sure to check out one of Perth's many rooftop bars where you can enjoy a delicious meal and an amazing view of the sunset. We recommend 18 Knots Rooftop Bar.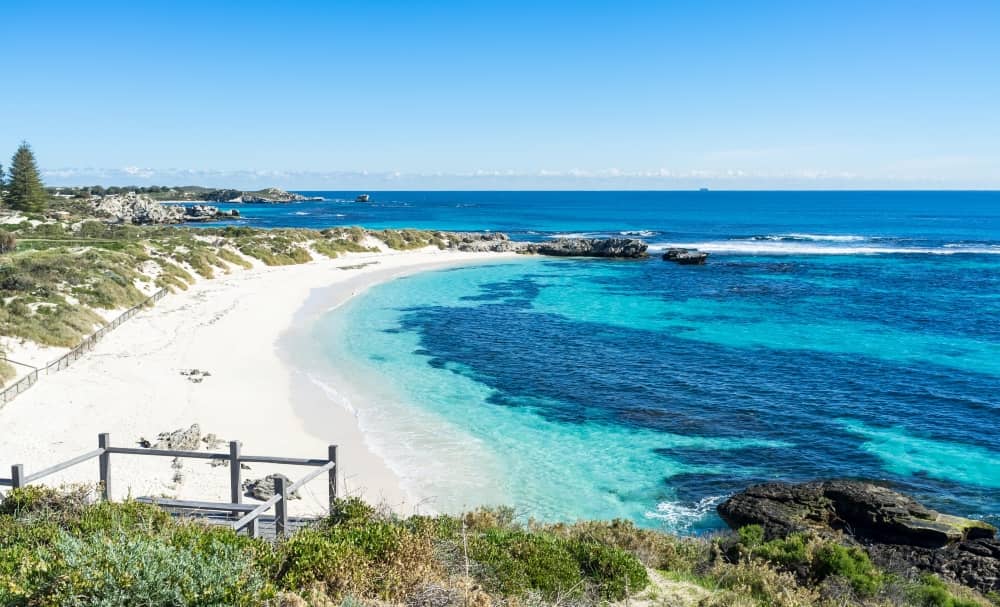 Day 3 – Margaret River
To explore the stunning natural beauty of the area visit the Margaret River. The Margaret River region is located in the South of Perth and is 3 hour's drive from the city. A great way to start is with a walk around Ngilgi Cave. The cave experience is unique with its stalactites and stalagmites. Make sure to talk with a centre guide at the cave for other beautiful places within the cave.
For lunch, why not drive to the charming coastal town of Dunsborough which is about 9 minutes away? There you will find some of the finest restaurants in Australia, so treat yourself to a delicious meal and take in the ocean views. Later, take a detour to one of Margaret River's boutique wineries for some wine tasting or sample beer from one of the craft breweries in the area.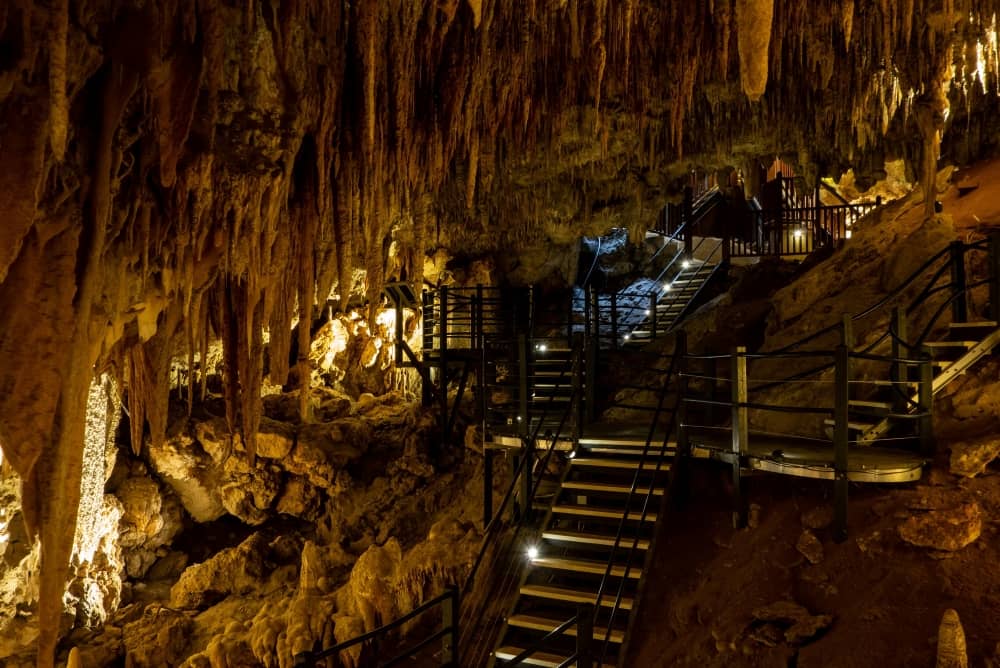 Day 4 – Swan Valley
Swan Valley is another must-see destination during your trip to Perth. Take a day trip to the Swan Valley, a wine region where you'll get the chance to sample some of Western Australia's best wines, beers, and ciders. You can take a tour of the wineries for an in-depth exploration of the region or take yourself on a self-guided tour and find the perfect place to stop for lunch or dinner. We offer a wide range of car rentals from sedans SUVs, people movers and more for all your needs.
At Swan Valley, you can also enjoy cycling trails from wine trails to mountain trails, perfect for those adventurous spirits. Don't worry about where to get the bike, Perth Electric Bike Centre got you covered. You only need to book and arrangements will be done to pick up and return at Guildford Station. If you'd like a more relaxed day, take a cruise down the Swan River and get a great view of the Swan Valley from the water.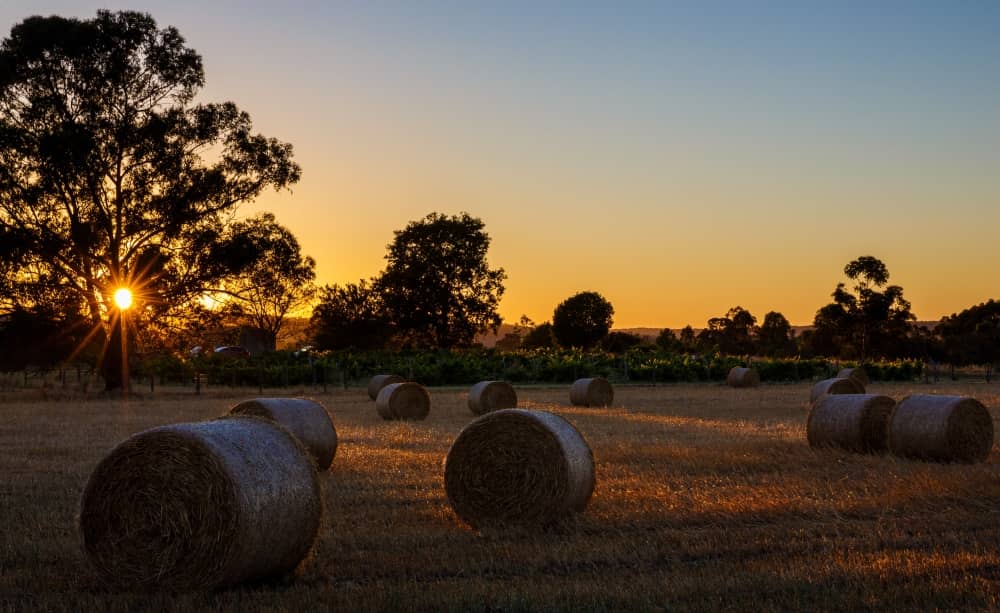 Day 5 – Pinnacles Desert and Sand Boarding
Head to the incredible Pinnacles Desert, located two and a half hours north of Perth in Nambung National Park. The landscape is striking with its thousands of limestone formations, some reaching over five meters in height. You can drive through the pinnacles or take a walk around them. Make sure to bring your camera along, as the views are truly spectacular!
For lunch, make a stop at the Lobster factory for some freshly caught seafood. For afternoon-filled fun, head to Lancelin and take part in one of their world-famous sandboarding activities. The waves created by the wind blowing over the dunes are a sight to behold. Enjoy an afternoon of sandboarding and surfing across the coastal dunes. Don't forget to bring sun protection and wear suitable clothing.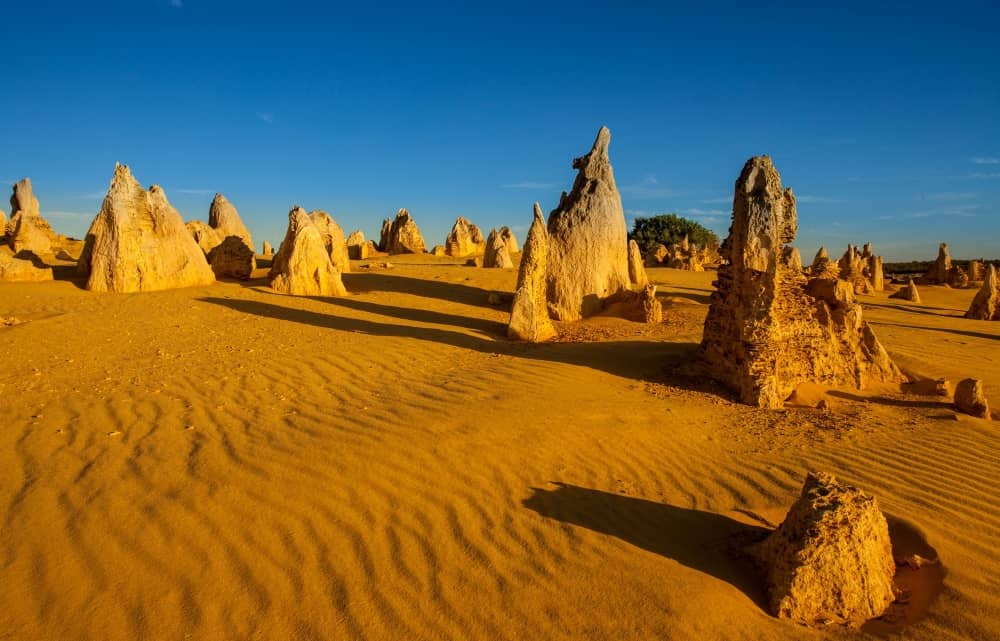 Day 6 – Caversham Wildlife Park
Caversham Wildlife Park is a great option to spend your day getting up close and personal with some of Australia's most iconic wildlife. You can hand-feed kangaroos, pet koalas, stroke a wombat, or just enjoy the beauty of native birds. To access the park from the city centre, get a car hire since public transport takes longer. Take a break and have lunch at one of the park's many eateries. When it is in the afternoon, spent your time at Hillarys Boat Harbor where you can hop onto a whale-watching cruise or take a stroll along the boardwalks and enjoy the spectacular views.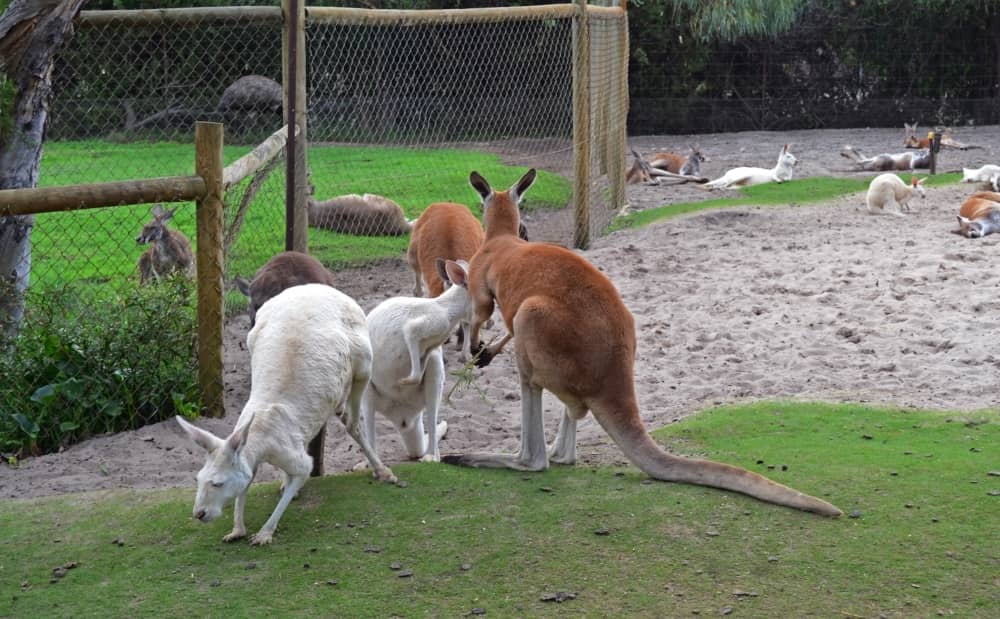 Day 7 – Fremantle
Only 30 minutes away from Perth by train is the charming city of Fremantle. Start your day by visiting Fremantle Prison and learning about the rich history of this place. This one-of-a-kind building is full of stories and interesting facts that will surely capture your imagination.
The roundhouse museum, National maritime museum, and the WA Shipwrecks Museum are all nearby to explore some more of Perth's fascinating history. Afterwards, explore the Fremantle Markets and sample some delicious food. If you are looking for a souvenir to remember your time in Perth, Fremantle Market is the best place to look at.
Finally, end your trip with a relaxed dinner at one of Fremantle's amazing restaurants, such as an oyster bar or Little Creatures Brewery, and you can finish your journey with a ferry ride back to Perth and reminisce on all the wonderful experiences you had in Western Australia!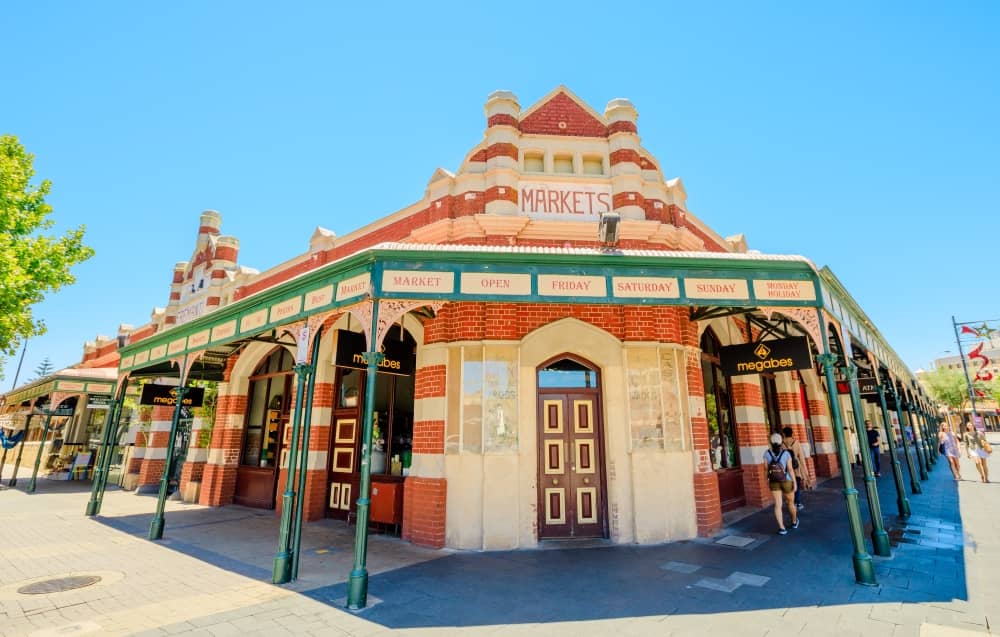 Perth is an amazing destination for anyone looking for fun activities, beautiful nature reserves, delicious cuisine, and more. With so much to offer during a seven-day itinerary, it can be hard to choose what to do but hopefully, this guide has given you an idea of the many wonderful things you can experience. To make your travel easier, you can book a rental car with Aries to make your Perth experience all better! Take in the scenic views, explore unique attractions and try out some of Freo's great eateries. We hope you enjoy your stay in Perth!