Are you looking for the ideal coastal spot for your vacation? Monkey Mia could just be the spot you are looking for. Monkey Mia offers a wide range of activities you can engage in. From historical lessons about Australia to wildlife tours and sea world experiences, there are a ton of activities to engage in at Monkey Mia.
The best part is if you are coming from Perth, you get to enjoy different tourist attraction sites Australia has to offer. Read on to learn more about what Monkey Mia has to offer and better prepare for your visit.
How To Get To Monkey Mia from Perth
There are two ways to go from Perth to Monkey Mia; via air or road. If you opt for air, you'll land at Shark Bay Airport. From there, you'll take a short 20 min drive to Monkey Mia. If you opt for a road trip, that will take around 9 hours with a drive of about 900km.
You might be wondering, is it worth the road trip? Well, it is. A Perth to Monkey Mia road trip gives you a chance to see many different spots and make your time in Australia worthwhile.
If you are visiting Australia or would like to hire a car for the road trip, Aries Car Rental offers rental cars you can use to travel to Monkey Mia. For a set remote fee, you can take your rental car beyond a 500km radius of Perth to go all the way to Monkey Mia.
Best Time To Visit Monkey Mia
Monkey Mia is located along Australia's western coastline. Therefore, it has relatively friendly weather throughout the year. This said, if you would like to visit when the weather is most comfortable, you should do so in February and May. The temperature ranges from 25 to 29 °C, making it the best time to be in Monkey Mia. Also, there aren't as many tourists at this time, so you'll get to enjoy lots of places without the hustle of having to book early.
Things To Do in Monkey Mia
There are lots of places to visit and activities to do in Monkey Mia. As a tip, it would help if you made a travel itinerary. This will help manage your time better, keep your budget in check, and keep track of the places you'd like to visit. Here are some ideas you can include in your travel itinerary.
Snorkelling
If you are a snorkelling fan or want to try it out, Monkey Mia beach is the ideal place. Due to its calm waters, Monkey Mia beach offers ideal conditions to snorkel without running the risk of drowning. Also, the beach offers a variety of sea life. Therefore, you get to see many different sea creatures. In case you don't have your gear, you can rent some at the beach.
Monkey Mia Dolphins
Do you enjoy watching dolphins? If you do, you will love Monkey Mia beach. Here you'll get to see lots of these beautiful sea creatures. The best time to see them is between 7:45 am to 12:00 pm. This is when the local rangers feed the dolphins, and so most of them flock around the shoreline around that time.
The ranger may let you feed them and get a chance to interact with them. To prevent them from developing a dependency on the food they're given, they are only fed 10% of their diet. This helps not to disrupt their natural hunting tendencies. Remember to stay safe and not get too touchy with the dolphins.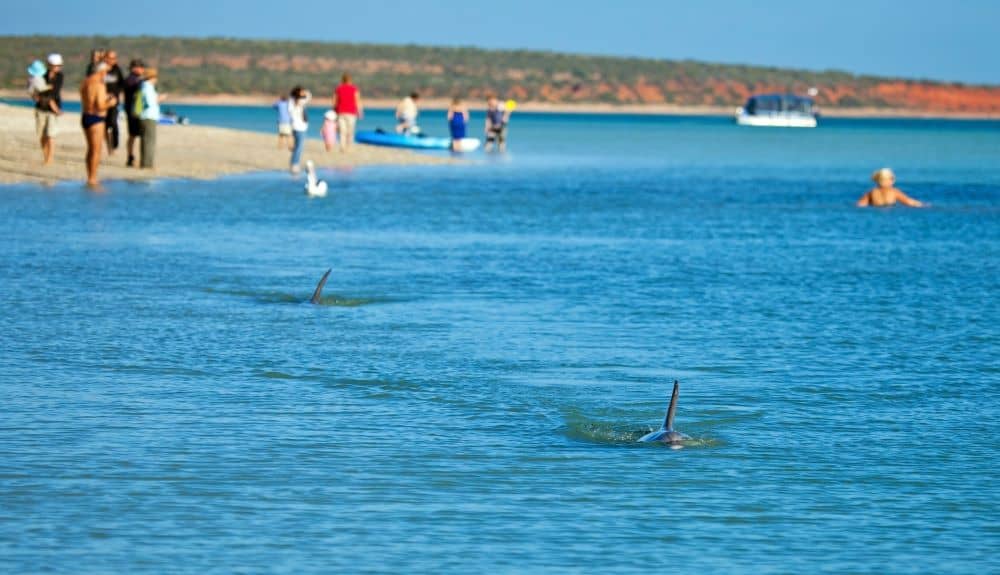 Francois Peron National Park 4WD Tour
If you are a fan of history and enjoy learning about ancient cultures, you will enjoy this. On this tour, you will get to learn about the Aboriginals and get a history lesson about the area from an Aboriginal tour guide. You will also get to meet and interact with the indigenous Aboriginals.
During your tour, you'll also visit Skipjack Point lookout, and if you'd like, you can go kayaking on the red cliffs at Point Peron. You will also get a chance to see the spectacular Big lagoon and where the East and Western bay meet.
This is one of the best tours you'll ever experience. You'll get to see lots of animals and breathtaking scenery. In the end, you get a free natural hot tub experience. It's worth every dime.
Ocean Park & Shark Bay Dive
On this tour, you will get to watch the sharks being fed and also enjoy the aquarium at Ocean Park. On tour, you will have a chance to see a wide array of marine life and will have a guide with you to take you through. You can also do scuba diving, snorkelling, and other marine activities.
Dirk Hartog Island
If you are in the mood for adventure and going somewhere quiet, Dirk Hartog Island is the place for you. It is among the first point of European contact with Australia. Here you can go fishing, snorkelling, or diving. You can take a day trip to the island and stay at the campgrounds around the island. The island also offers spectacular cliffs, secluded beaches, and a pink lake. The island hosted many of the first explorers to Australia, so you can learn a lot about this at the island.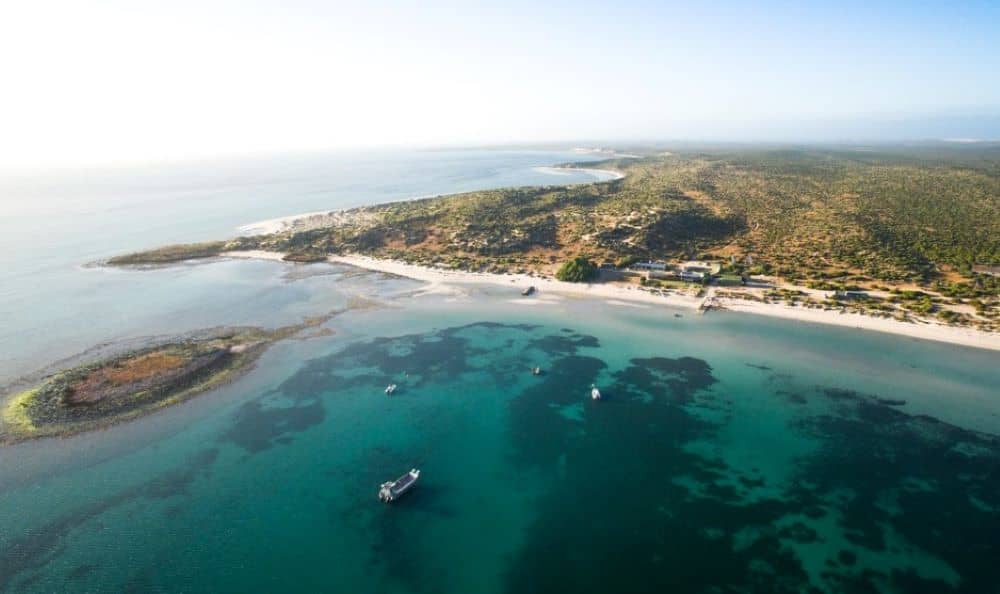 Shark Bay World Heritage Drive
The Shark Bay World Heritage Drive is a tribute to Shark Bay. Since Shark Bay bears world heritage status, this drive is a dedication to celebrating this. The drive is 130km, starting at the Overland Roadhouse to Monkey Mia. On the drive, you will get a full feel of the area and get to learn about the earth's biological history.
Quad Bike Tours
Quad bike tours are among the most fun and engaging activities you can take part in at Monkey Mia. This is especially true if you enjoy riding quad bikes and love riding in the open wild. With the expansive landscape along the coast, you will enjoy riding a quad bike here. Whether you do it alone or with your friends or family, you are guaranteed lots of fun on the quad bike tours.
Steep Point
As the name suggests, Steep Point is a cliff area located at the most westerly mainland point. You can enjoy the wide ocean view at this point and can also go camping around the area.
Denham Discovery Trail
The Denham Discovery Trail offers an opportunity to explore the early European settlements and gives a history of how they lived. The walk is about 2.3 km long and entails 12 stops, where you get to see different aspects of Denham. The trail starts at Shark Bay World Heritage, goes through Denham's back streets, and ends at the foreshore.
The Old Pearler Restaurant
The Old Pearler Restaurant is among the famous tourist attractions at Monkey Mia. The restaurant offers delicious seafood, and it's made entirely out of coquina shells. This gives it a unique overall look which is great for photos. On the inside, the restaurant has a sea-inspired design that you'll also find captivating. Be sure to book early at the restaurant since it's small and tends to be full during meal times.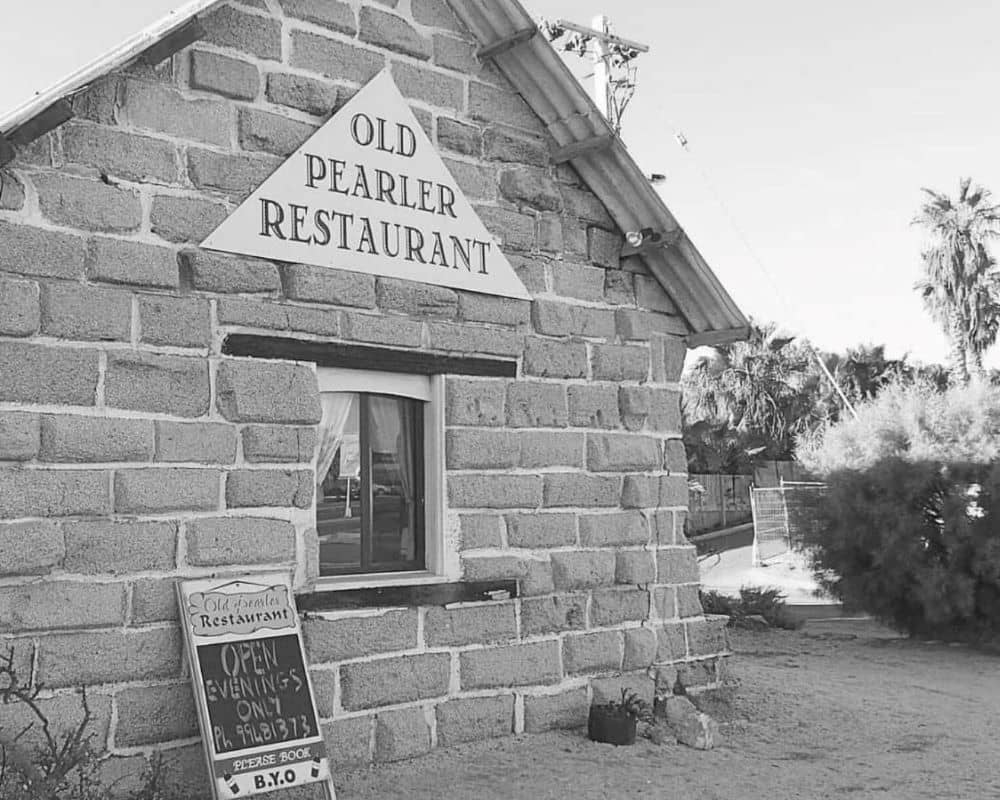 Kite Surfing
If you enjoy kite surfing, you will love it, especially when it's windy on the coast. West Australia offers some of the best spots to kite surf. Also, you can enjoy the beautiful scenery while at it. There is also wildlife around that you'll enjoy watching while kite surfing. So when the weather is not ideal for fishing or snorkelling, you can always have fun kite surfing at the coast. There're also kite schools around the coast from which you can learn and perfect your skill.
Conclusion
Australia is a huge and beautiful country. Monkey Mia is one of those unforgettable places that you will most likely enjoy. Monkey Mia has a lot to offer, and there is something for everyone. That said, a lot goes into making a successful trip. Preparation and proper research could mean the difference between a great trip and one you probably won't enjoy as much. Ensure to make a travel itinerary and have a checklist to ensure you have everything for your trip.