Are you in the spirit of adventure and epic road trips? Australia's Golden Outback region is the place to be. It provides diverse outback tourism opportunities, epic road trips, and holiday destinations.
Australia's Golden Outback is a region covering almost half of Western Australia, stretching from the rugged red earth of Mt Augustus and Kennedy Ranges in the north to the sweeping snow-white beaches of Esperance and the South Coast. Read through to find out why you need to fix this amazing destination in your schedule.
How To Get To and Travel around Australia's Golden Outback
Here are several ways to get to and travel around Australia's Golden Outback.
Domestic and Overseas Flights from the East Coast
There are daily flights to Perth airport from major international capitals. From the Perth airport, you can connect to domestic flights to Western Australia's Golden Outback.
Domestic Flights from Perth
Multiple airlines offer flights between Perth and the Golden Outback destinations and towns, including Esperance, Kalgoorlie –Boulder, Wiluna, Laverton, Meekatharra, Leinster, Leonora, and Ravensthorpe.
Travel by Road from Perth
Western Australia's Golden Outback is easily accessible by road from Perth. Two main highways infiltrate the region: the Great Northern Highway to Meekatharra and the Great Eastern Highway to Kalgoorlie-Boulder. Additionally, Esperance can be reached via the Albany Highway and along the South Coast Highway.
However, alternative routes have a more enriching experience, such as the Golden Quest Discovery Trail or The Outback Way.
Travel by Road from Australia's East Coast
If you are looking to have an adventurous trip, you can travel to Australia's Golden Outback along the Eyre Highway from South Australia across the vast Nullarbor Plain or the Canning Stock Route.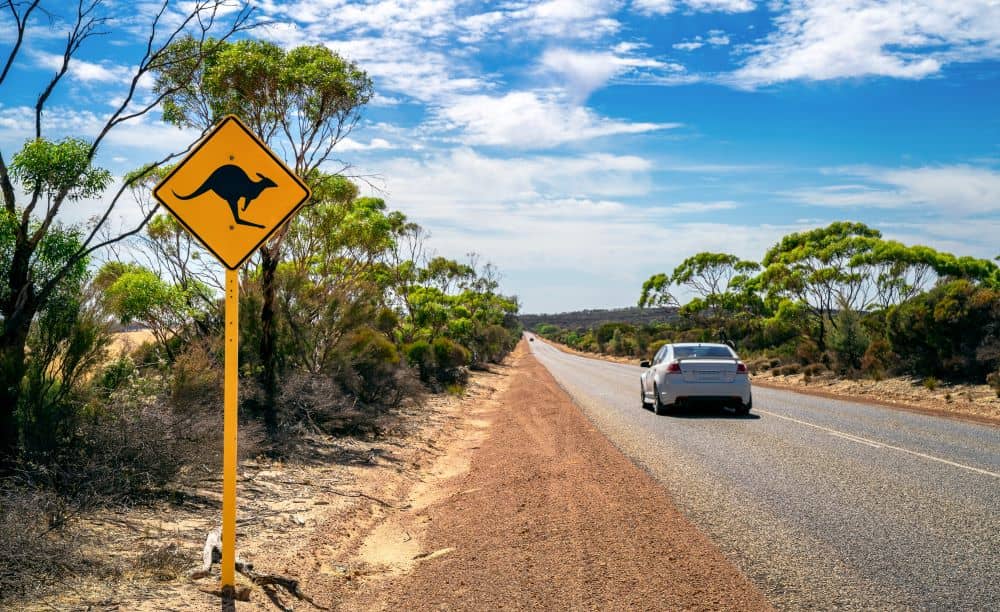 Travel by Rail
Convenient train services are operating across the region from Perth. For instance, the Indian Pacific stops at Kalgoorlie twice a week on its journey between Sydney, Adelaide, and Perth. Avonlink and Prospector train services travel across the region stopping in towns such as Southern Cross, Merredin, Kellerberrin, and Cunderdin.
Travel by Coach
Convenient coach services are commuting daily from Perth to Esperance and additional services that connect with most of the towns within the Wheatbelt and Gascoyne-Murchison region, Laverton, Leonora, Menzies, and Kalgoorlie-Boulder.
Guided Tours
Several companies offer various touring packages in Western Australia's Golden Outback Regions.
Vehicle hire
Rental Vehicles to help you get around the region are available from Perth and in major towns across Australia's Golden Outback. At Aries Car Rental, we offer affordable car rentals that can be taken outside a 500km radius of Perth for a set remote fee to take you around the outback.
Things to Do in Australia's Golden Outback
Here are a few places you can visit in this region full of breathtaking destinations:
Visit the Wheatbelt
The Wheatbelt is one of the most amazing things about Australia's Golden Outback. It is home to the world-famous Wave Rock. Near the Wheatbelt town of Hyden, Wave Rock is one of Australia's most recognized landforms. It is 15 meters tall and more than 100 meters long and takes the shape of a giant surf wave of multicoloured granite about to crash onto the bush below it.
Records indicate that this fascinating formation is more than 2,700 million years old. The bush walk around the rock will have you staring at the native flowers and birds in this part. The rock is only 340 Kilometres southeast of Perth, a four-hour drive.
The Elachbutting Rock near Westonia is another must-see rock in the Wheatbelt. It has similar features to Wave Rock, including beautiful surrounding vegetation. A fantastic walk around the rock includes exploring the caves formed within the rock and the Elachbutting well established by early settlers.
Other breathtaking granite outcrops and rocks that you might encounter include Kokerbin Rock near the town of Bruce Rock and the Beringbooding Rock near Mukinbudin.
The Wheatbelt offers more than just the Wave Rock. This region has a dozen station and farm stay locations where you can enjoy staying with farmyard animals, home-cooked meals, and fresh local produce, including wines, preserves, yabbies' and olive oil.
If you are a nature lover, the West Australian Wheatbelt's Dryandra Woodland is the place to visit. This has been labelled as one of Western Australia's most important areas for wildlife preservation. You will see kangaroos, brushtail possums, tammar wallabies, tawny frogmouth owls, and numbat.
The Wheatbelt also offers a spectacular display of Western Australian Wildflowers from June to Early November.
The list of fascinating places to visit in the Wheatbelt of Western Australia's Golden Outback is endless.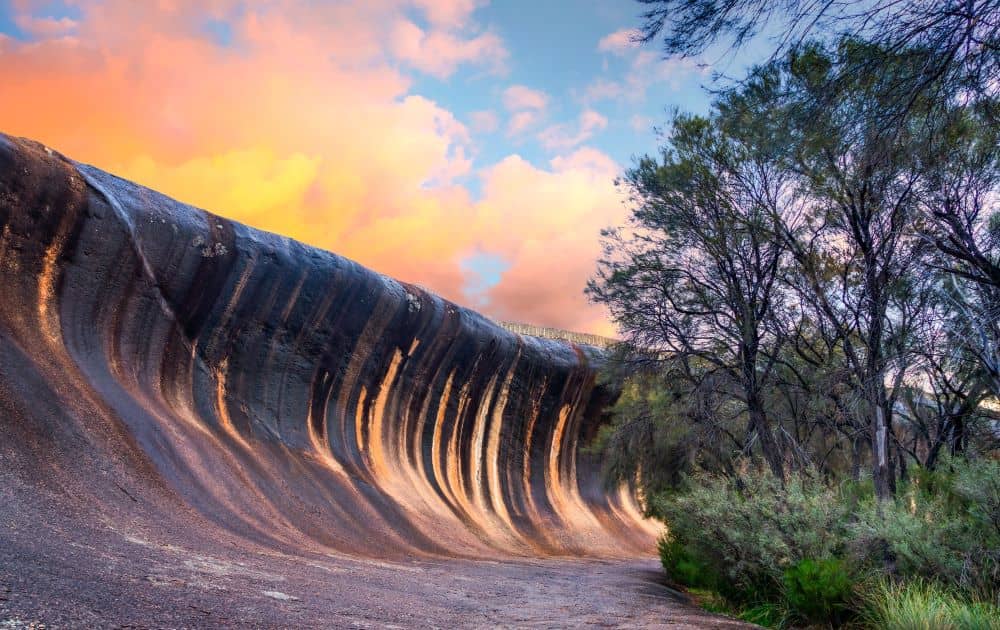 Visit the Kalgoorlie Boulder and the Goldfields
The Goldfields is another place you must visit while in Western Australia's Golden Outback. You can start with a visit to the Museum of the Goldfields in Kalgoorlie which showcases the rich history of the Eastern Goldfields and the city's mining heritage. You will be able to see how early prospectors searched for gold and learn about the lives of the mining families during the 1900s. The museum also houses Western Australia's largest gold bars and nuggets collection. Entry to the museum is free, and donations are accepted.
Hunt for gold. You can choose from several local operators; they provide detectors, meals for the day, and an experienced guide to lead you across the vast land as you hunt for gold.
Explore Hammond Park. This beautiful park will give you a one-on-one experience with the beautiful native birds, a Bavarian castle adorned with 40,000 gemstones, a tranquil pond, and lush green trees. The park also has an animal sanctuary where visitors can get up close and personal with kangaroos, peacocks, and emus. Additionally, the park has a playground and café to relax in after a few laps of the pond.
You will also have a chance to visit the Super Pit, one of Australia's biggest gold mines. Almost 900,000 ounces of gold are harvested from this 1.5 kilometres wide pit. The pit lookout is located at the top of Outram Street in Boulder. With the right timing, you can watch a fascinating mine blast.
Mount Charlotte is yet another feature that should make you consider visiting the Goldfields. It is an easy walk to Mount Charlotte's summit, where you can have a spectacular view of the Kalgoorlie township.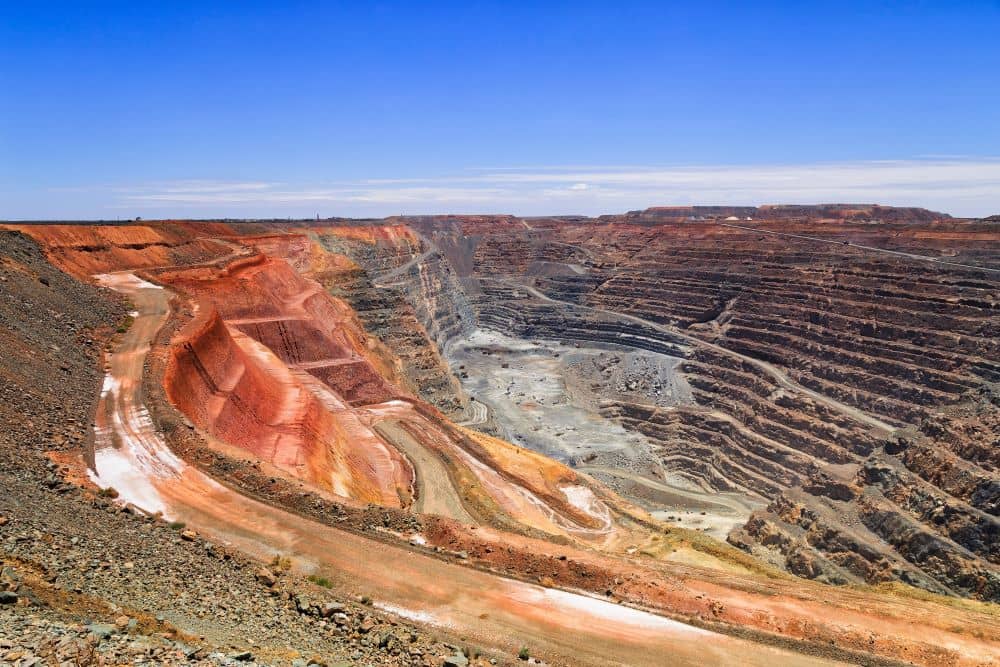 The Gascoyne and Murchison
If you are visiting Western Australia's Golden Outback, you must visit The Gascoyne and Murchison region. It is a vast region characterized by miles of rich red earth, rugged rock formations, towns built on the dreams of the gold rush era, and widespread cattle stations.
The Gascoyne and Murchison region will have you staring at the vast fields of vibrant spring wildflowers. Additionally, you will see Mount Augustus, commonly referred to as the world's most enormous single rock.
You can also visit Mount Magnet. This is the longest surviving gold mining settlement in Western Australia. It is the perfect base for exploring the Gascoyne Murchison region and offers excellent pickings for gold prospectors, fossickers, and those interested in gold rush history. In this same region, you have the chance to explore the remains of abandoned settlements such as Lennonville. If you are a nature lover, visit in spring and see the breathtaking carpets of wildflowers.
Did you know you can catch a movie on Mount Magnet? In summer, the town holds an open-air film theatre, among the three traditional outdoor cinemas still operating in Western Australia. You will also have a firsthand experience with the mining and pastoral museum and its vast collection of farming and mining collections.
Lastly, follow the Tourist Trail from the town centre. You will have fascinating views from Warrmboo Hill and explore unique granite rock formations, including a cave and a natural amphitheatre.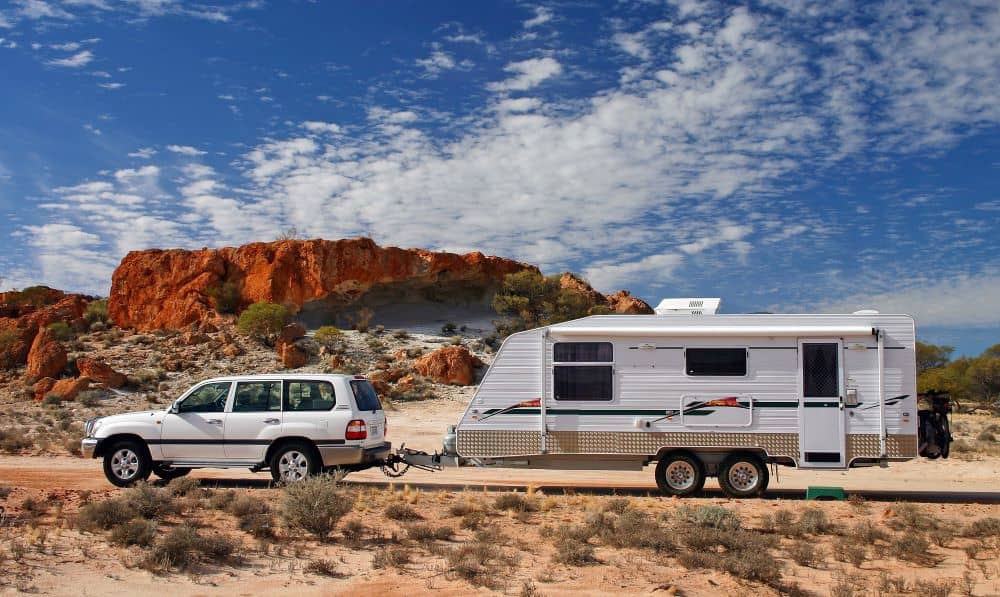 Esperance and the Fitzgerald Coast
This is one of the finest strings of beaches in the whole world. If you are a beach lover, this is the place to be when you vacation or trip in Western Australia's Golden Outback.
To start with is the fascinating Cape Le Grand National Park and Lucky Bay. This park, full of vast regions of white sand, is where you will find Rossiter Bay, Thistle Cove, Hellfire Bay, and Lucky Bay. There are clear coastal walk trails where you can take long walks as you enjoy the view and feel squeaky-clean sand between your toes.
Are you into fishing, diving, snorkelling, or sailing and still want to visit Western Australia's Golden Outback? Recherche Archipelago and Woody Island are where you will find all these activities. This natural treasure offers a variety of wildlife, a perfect island playground, fishing charters, and island cruises.
The Esperance beaches, Blue haven beach, and the swimming spot of Twilight Beach are yet another place for beach life lovers.
Lastly, you can visit the beautiful Muglinup Beach, where you can snorkel, fish, comb the beach for shells, and surf. Muglinup Beach is also a good destination for birdwatchers; the rich wetlands of the Oldfield Estuary are a habitat for various spectacular birds.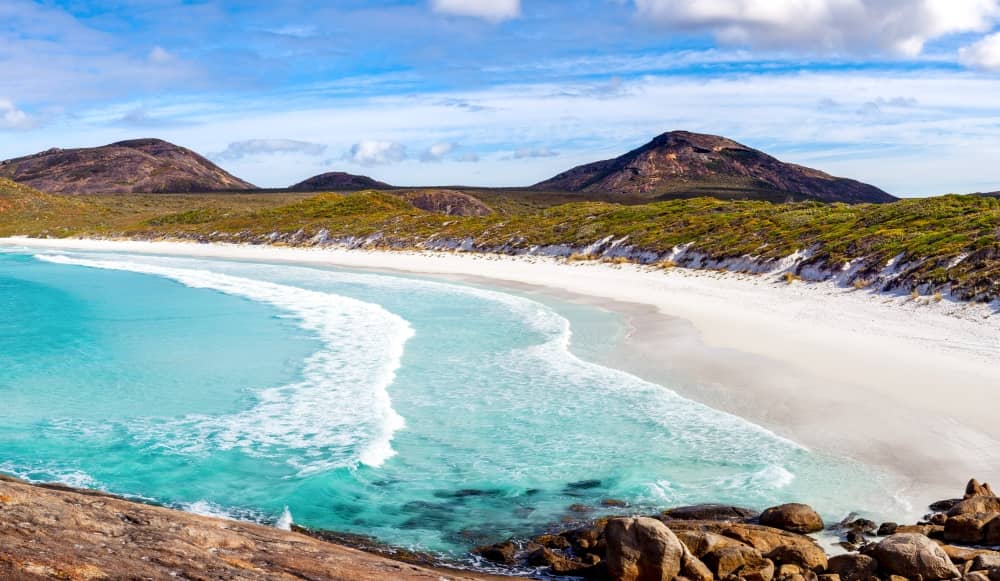 Where to Stay
There are many accommodation options while visiting Western Australia's Golden Outback, including luxury hotels, motels, caravan parks, camping grounds, station stays, and farm stays, among others. These accommodation facilities offer a wide range of facilities, including tour guides and bed and breakfast services.
Road Trips to Check Out
Visit the Wheatbelt, Goldfields, Gascoyne and Murchison, Esperance, and the Fitzgerald Coast by road. You will have a fantastic road trip as you see the vast regions of wildflowers, remains of early settlement, and outstanding granite rocks.
Conclusion
Western Australia's Golden Outback is one of the fascinating places to visit worldwide, and it should be at the top of the holiday destinations list. What could be more interesting than spectacular views of vast regions of wildflowers, early settlement, rugged red earth terrain, the Wave Rock and its likes, gold hunting, farm stays, station stays, and the beautiful Esperance and Fitzgerald coast?